Grape Vine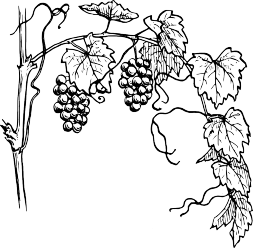 The vine, its fruit and the wine made from it are mentioned constantly in the Bible, from Noah onwards. Noah, indeed, planted a vineyard after the deluge (Gen.9:20-21). The vine, wheat and olive—those essentials of the Holy Land are part of everyone's daily life. "A land of wheat, and barley, and vines, and fig trees" (Deut.8:8). This was the promised land.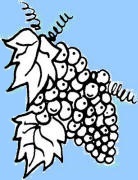 The vines of Palestine were famous for their heavy clusters of large juicy grapes. The spies sent by Moses to explore the land of Canaan cut, in the valley of Eschol, a cluster of grapes that was so large that "they bare it between two upon a staff" (Num.13:23). The Israelites in the wilderness longed for the puny grapes of Egypt—"And wherefore have ye made us to come up out of Egypt, to bring us in unto this evil place: it is no place of seed, or of figs, or of vines" (Num.20.5)—unaware of the delicious ones which lay ahead of them. The grape vine is the first cultivated plant to be recorded in the Bible. Its origins are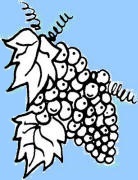 uncertain; botanists say that it came from Armenia, where it still grows with the luxuriant wildness of a tropical creeper, clinging to tall trees and producing abundant fruit without pruning or cultivation.
The vine is honoured before all other plants of the world. 'The fruitful vine' and 'the vine brought out of Egypt' symbolized the Jewish people and our Lord compared himself with the 'true vine'.
The Flowers and Fruits of the Bible,
John Chancellor
Pruning. Select fruiting arms either from a shoot produced by the spur(s) left from the previous year, or from one of the lower shoots off the previous year's arm. In winter, tip the leader back by about one-third and shorten the other main shoots to two buds. Thin any crowded spurs back to one or two shoots.
Plant care. Thin out individual dessert grapes on the bunches to allow the berries to ripen fully and to improve air circulation. Use scissors to remove berries when they are small, removing about one in three per bunch.
Grow Your Own Fruit,
Carol Klein